About
MAIN STREET MULTIMEDIA
Kind of a Cat Tale

Main Street Multimedia was originally created many years ago by the FineDay founder David Watkinson to use for his off-the-set work for movies and TV shows from his studio apartment on Main Street.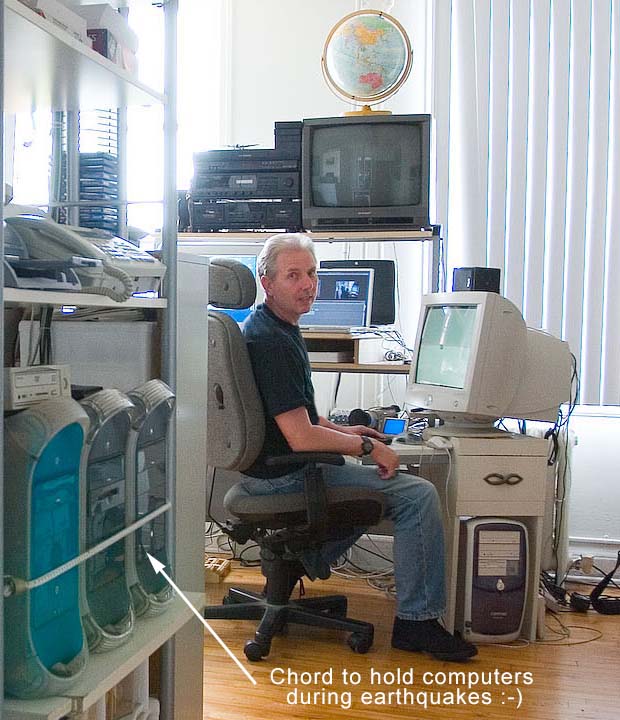 David started as a story analyst, writer and Assistant Director, but spent most of his career creating graphics, videos and animations to play live on the set for interaction with actors. Here are photos and cast-and-crew screening invitations from some of the shows that featured David's work: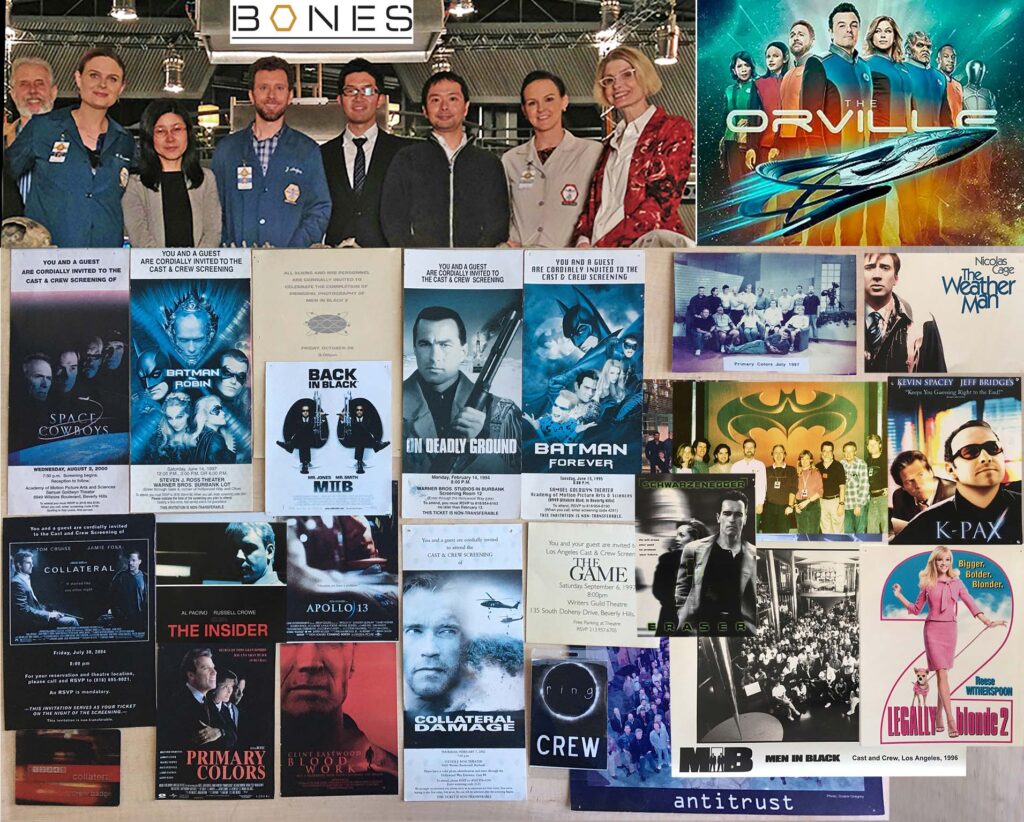 David and his wife Kim lived with their cats in a little apartment across the hall from the even smaller Main Street Multimedia studio apartment: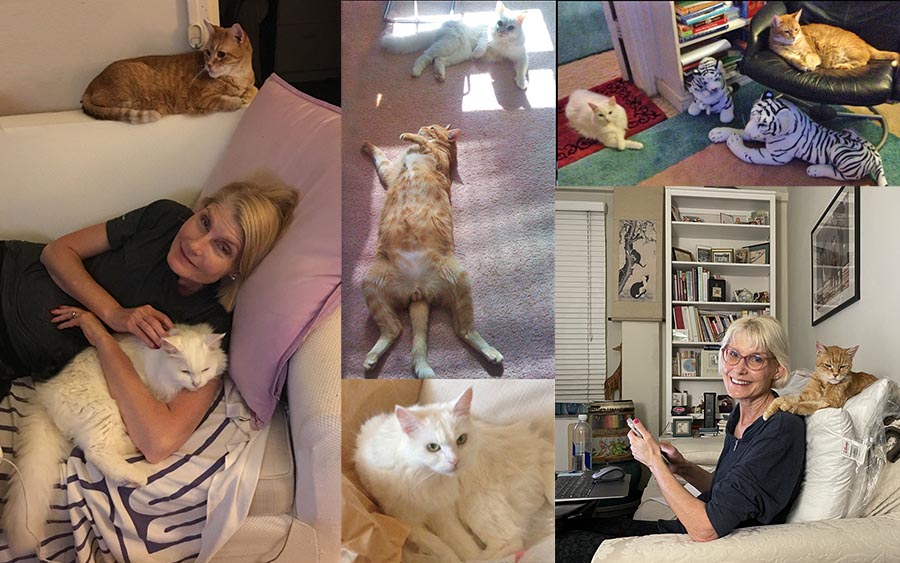 Most of the time, David worked on set, or in Hollywood movie studio offices. Here's David and colleague Maddy Dotto working in their office at the Fox/Disney movie studio: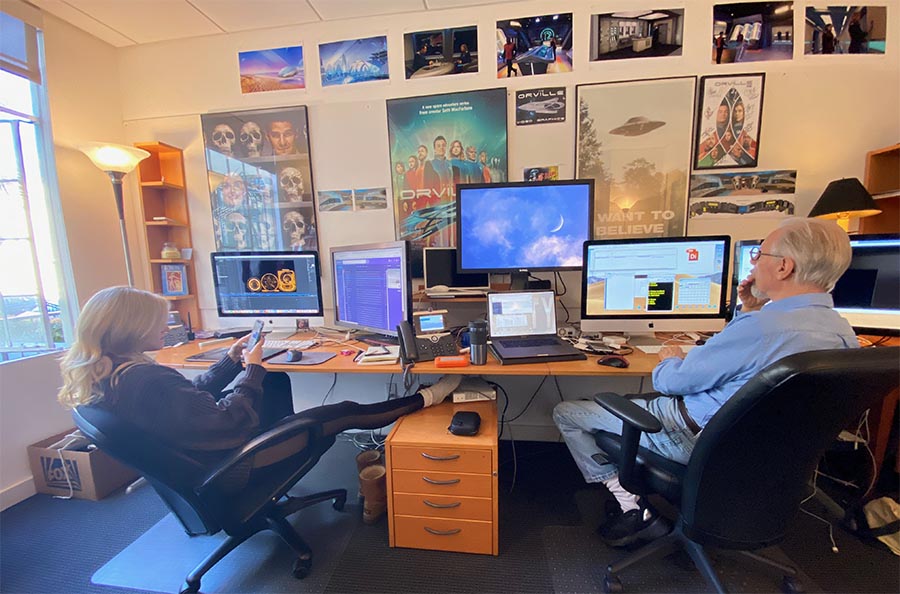 And here's David working on the set of Seth MacFarlane's show The Orville: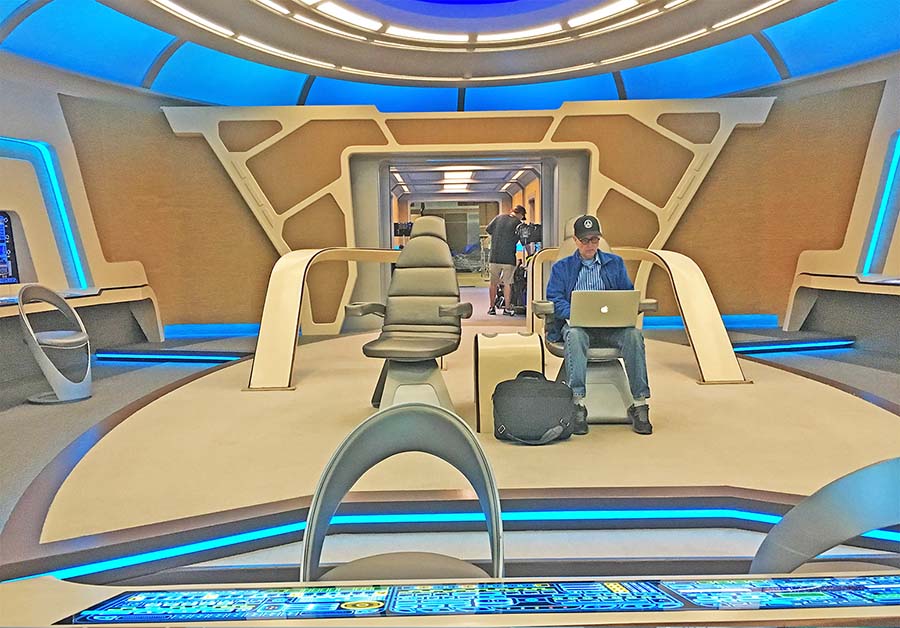 In 2021, David had to finish work on The Orville remotely from his Main Street studio due to COVID restrictions at the Fox/Disney movie studio. The remote work arrangement showed David that he was no longer tied to Los Angeles and Hollywood.
He considered moving to another state, while continuing to work on shows. Instead, David decided to not only move, but finally work on his own projects. That resulted in Main Street Multimedia being re-purposed to fund FineDay projects with your help.
David put his savings into a house in Colorado and he, Kim, Main Street Multimedia and the cats prepared to leave the Carlton apartments, where David had lived for 43 years!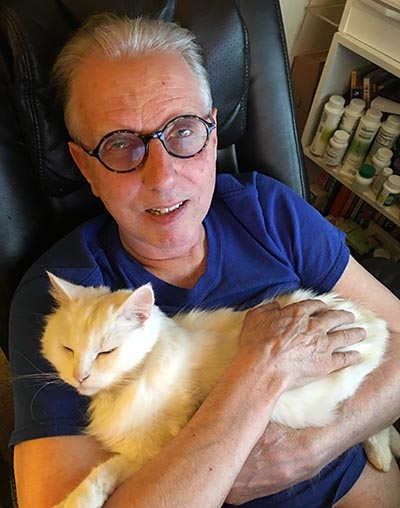 At 76 years old, David was excited to move to his very first house. At twenty years old, Kiku decided she didn't want to make the trip and crossed over the rainbow bridge some months before departure.
But TouTou at about age 18, decided he was up for an adventure. Kim flew ahead to start a new job at Dish/Sling TV. Then after one last regular trip to give free pizzas to people at a nearby homeless encampment, David and TouTou hit the road.

After spending the night in a motel in New Mexico, David and TouTou set out on the final leg of their journey.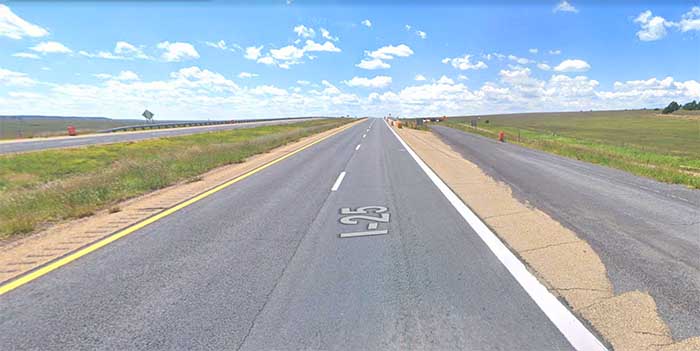 Twenty minutes into the drive, David realized he hadn't seen TouTou, since he had climbed onto his spot in the back of the car, while David closed all the windows from the driver's seat.
David called for TouTou, then pulled over and frantically searched the car with no success.
Knowing that TouTou would be very confused after climbing out of the car window at the motel, David raced back hoping to find the elderly cat before he got too lost.
Just before arriving back at the motel, sleepy TouTou climbed out from under the driver's seat onto David's lap.
Arriving in Colorado, where Kim has many relatives, David and TouTou found many new critter friends.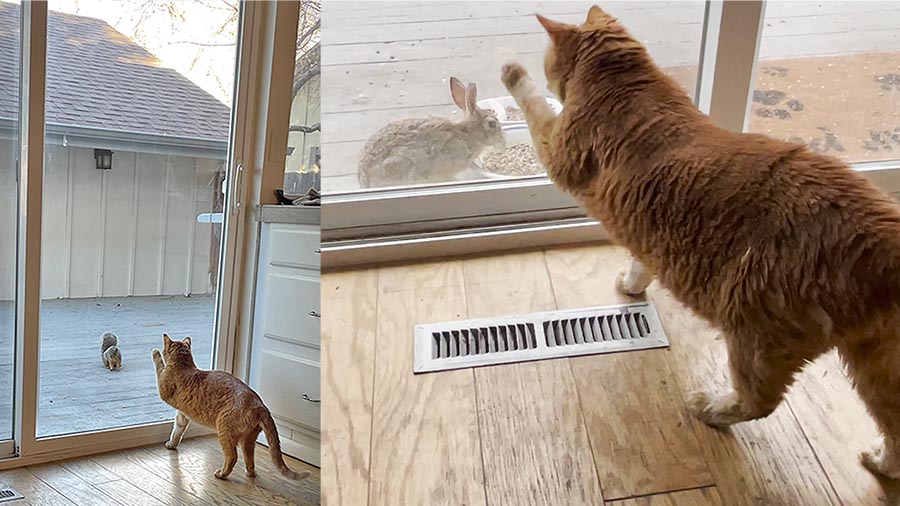 David was happy to see a rabbit in his back yard and made friends.
In the video below, the Blue Jays in the background are calling for peanuts, which David gives them on a regular basis. Watch for the surprise ending 🙂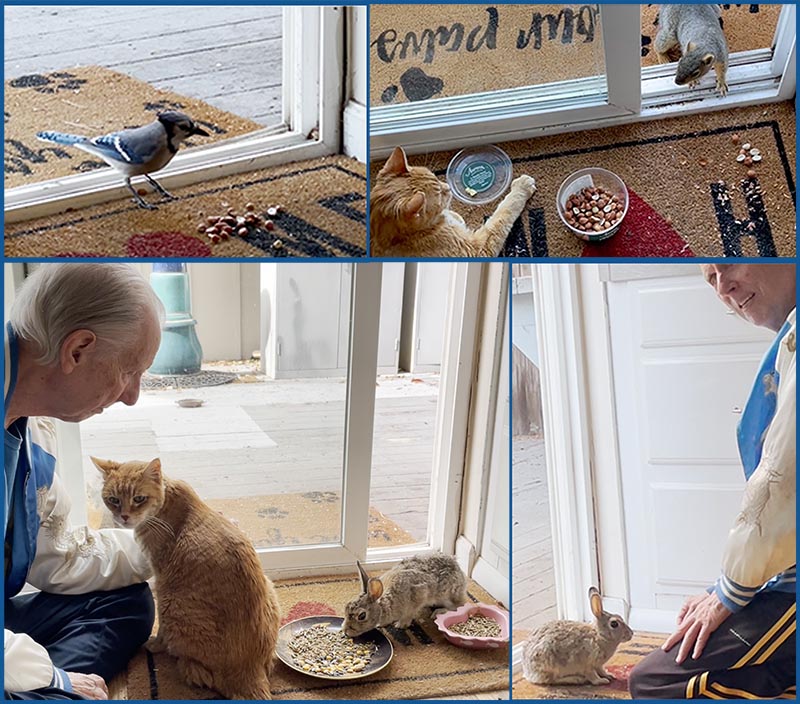 For some reason, indoor cat TouTou doesn't try to go out the open door. Instead, he purrs in anticipation of his inevitable treat, while squirrels and the brave wild bunny come in for a snack.
In case you're wondering, TouTou wasn't in the room when the Blue Jay came in.
BTW, the outdoor mat reads, "Wipe Your Paws" but no one does.
So, David and Main Street Multimedia have embarked on a new life adding FineDay projects with a focus on helping humanitarian groups.
As a final tribute to his former life on Main Street, here's a weekly event that David always enjoyed as he looked out the window, when working on weekend evenings in the Main Street Multimedia studio apartment:
Thanks for spending time with Main Street Multimedia and TouTou's tale.
If you enjoyed your visit, please consider making a donation to the FineDay projects Here. Thank you!